At Rainbow Valley Dental we care about kids.
School Exams
Dental cleanings
Hygiene Instruction
Preventive Dental Sealants
Fluoride Therapy
Athletic Mouthguards
White fillings
Great prizes for great kids
Most children's dental needs can be met at Rainbow Valley Dental, however in some circumstances we do work with pediatric specialists to provide the care that is best for your youngster.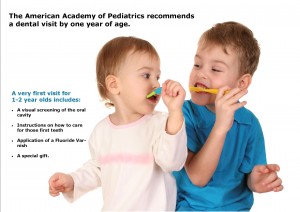 Recent directives from the American Academy of Pediatrics and the American Academy of Pediatric Dentistry have recommended that children be seen for the first dental visit by age 1.
Tooth decay is preventable and educating parents and caregivers on how to care for baby's first teeth is the key to a lifetime of zero cavities.  A study in the Journal of Pediatrics highlighted how early dental visits can actually save families money. This study showed that children who had their first visit by age 1 had 40% lower dental costs in the first 5 years than children who did not benefit from early dental visits.
Baby teeth are essential to proper childhood development. Good nutrition is related to healthy diet and proper chewing of food.   Pain from tooth decay can prevent a baby from latching onto a nipple or eating properly.  Untreated tooth decay can lead to infection, loss of teeth and in some very unfortunate situations even serious illness or death.
The development of proper speech is influenced by the teeth.  The proper development and eruption of the permanent teeth depends on the baby teeth holding the space for them.
Another scientific paper in the journal of Pediatric Dentistry revealed that children who are not seen for their first visit until ages 2 or 3 are more likely to require fillings and emergency dental visits.  Emergency dental visits for very young children are difficult for everyone.
What Happens at a year one visit?
The first visit will include a demonstration of how to provide oral care for a baby's gums and first teeth.  At that visit we will discuss the need for fluoride supplements. Children in homes with well water have different needs that those children who have community fluoridated water supplies.  We provide an opportunity for questions about children's oral care. We may place a protective varnish on those first baby teeth to help protect them from tooth decay.  A visual dental exam will always be part of this visit.
If your child is still using a bottle we will talk about ways to reduce the risk of baby bottle tooth decay.  Pacifier use will be reviewed.  A caries risk assessment will determine how often your infant should be seen by the dental team. Most importantly, this visit will allow plenty of time for parents to ask questions about their children's oral health.
Dentistry has come a long way. Gone are the days of only treating something only when it hurts.  Dentists today are part of the entire healthcare team and by focusing on prevention we can insure children can grow up healthy and reach their full potential.